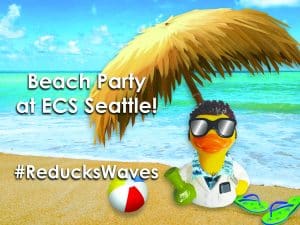 Pine Research Instrumentation has been hard at work developing our latest research grade potentiostat, the WaveDriver 200 Bipotentiostat/Galvanostat with EIS!  The official launch of the WaveDriver 200 will be at the 233rd ECS meeting in Seattle, WA.  The launch of the WaveDriver 200 is a significant milestone in our company and we are celebrating in an equally significant manner.  Just like our new WaveDriver 200 EIS-capable potentiostat, we will be making waves at the ECS meeting.

On Monday May 14th from 6-8 pm in ballroom 6ABC in the Washington State Convention Center our booth, right across from the posters, will be setup for fun beach party celebration.  The WaveDriver 200 will be on display, showing off our seamless integration into AfterMath.  We have some great swag – beach balls, frisbees, phone pop sockets, and maybe a duck or two to give away – do not miss out!  Have some fun at our Dr. Reducks and Post-Duck photo booth.  The best Tweets @Pine_Research using #ReducksWaves and Facebook posts with a picture of you and your friends at the beach party will win some gift certificates!


We will see you soon at ECS!  Don't miss out on the Beach Party and WaveDriver 200 Launch party!
[youtube https://www.youtube.com/watch?v=AERlNmWHnOs]