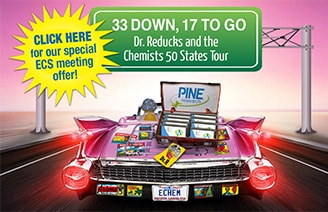 Dr. Reducks and the Chemists have been very busy on their tour, visiting 33 of 50 US States! If you have missed Dr. Reducks and the Chemists in your state – there is still time!  Check out his tour schedule below.
Also, we are offering a special ECS Meeting offer!  From now until October 31, 2016, we are giving 20% off all potentiostats!  This offer cannot be combined with other offers and order must be made by the posted deadline.  Simply contact us and request a quote for your new WaveNow series or WaveDriver series potentiostat with the "ECS MEETING OFFER" included.
If you did not have a chance to see Dr. Reducks and the chemists while they were in their state, contact Dr. Reducks to see if his tour manager can arrange an encore visit to your state!