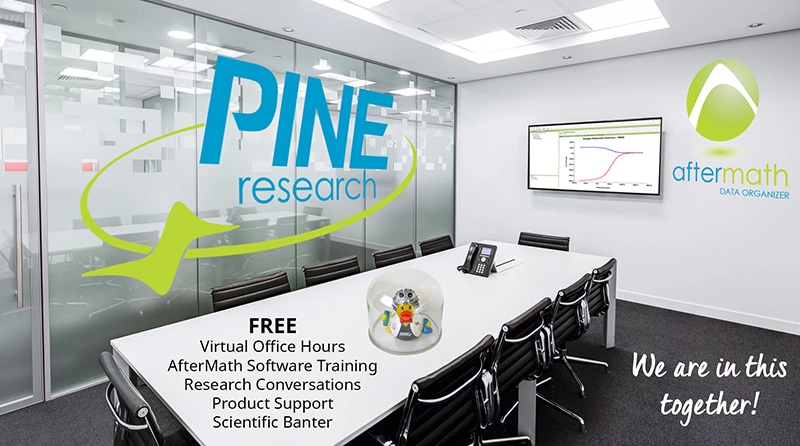 The COVID-19 pandemic has brought about a range of concerns for us all.
How am I going to continue working on my research?
What if I need help with my data analysis while I am at home?
How am I going to learn how to use this software when the instrument is in the lab I cannot visit?
We cannot help with everything, but with electrochemistry, research, and support – we are here for you as much as ever before.  We would like to take the current opportunity to really drive home our desire to work with you – whether in the lab or at your kitchen table!
Starting today, the team at Pine Research (including the electrochemical scientists, electrical engineers, and software engineers), will begin offering additional methods to help fight isolation and still make sound progress with your electrochemical research.  We are offering the following:
FREE Office Hours – need some electrochemical insight into your research and want to do this as a team?  Like group meeting?  Let us know – we can join and provide as much assistance as possible.
FREE Personalized AfterMath Training – new to our products and software and need an overview?  Seasoned user who wants to learn how to get the most from what AfterMath can offer?  Want to use our awesome new EIS circuit fitting features while you are stuck at home?  We will help you get started and make the most of your time away from the lab.
Research Conversations and Scientific Banter – most of us at Pine Research are not that useful when it comes to helping you match your shirt to your pants; but we love a good conversation about your research.  Need to practice a talk or ask for clarification on something?  Contact us and let's virtually meet!
FREE Product Support – we have always offered this, but even if you can't access your instrument, we might be able to help you remotely.  The possibilities are endless – you just have to let us know you want to chat with us!
To schedule FREE Personalized AfterMath Training, we ask that you fill out a brief form to help us connect you with the best our team has to offer.  We can also prepare our content a bit in advance so you (your lab, your group, your team) get the most out of it.  We have many platforms in which we can meet virtually and there is no cost to you.  Even if you don't yet have AfterMath – consider scheduling free training with us so we can walk you through how to download and install the software (for FREE of course) and we can send you some sample data to get you moving (whether CV, EIS, or other electrochemical data).
Tell us who you are, what your interests/applications are, and what topics you would like to discuss!  Someone from our team will reach out to schedule your FREE, personalized AfterMath training.  The more the merrier – consider this an option for your entire research group – we can accommodate!