The Venton lab uses electrochemical sensors to study real-time changes in neurotransmitters in many model system. The lab focuses on both analytical methods development and also applications to studying neuroscience in real systems. For methods development, they have studied many carbon nanomaterial modified electrodes and are designing new, custom electrodes with tunable surface properties. For applications, the Venton lab is a leading group in measuring neurochemical changes in the fruit fly brain and also are studying the neuroprotective molecule adenosine during pathologies such as stroke.  A brief list of recent publications in these areas is provided at the end of this article.
The Venton lab primarily uses Fast-scan cyclic voltammetry (FSCV) as the electroanalytical method to interrogate adenosine concentrations in-vivo. While FSCV is commonly used to measure dopamine and serotonin, it can be applied to other more challenging systems like adenosine, whose electrochemical potential limits are more extreme than other neurotransmitters.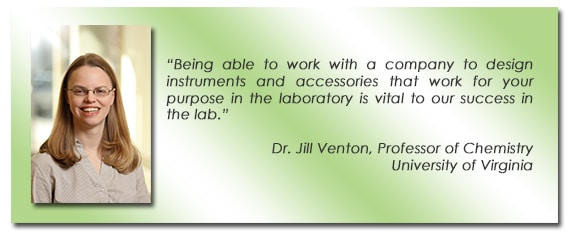 The Venton lab has worked with Pine Research to develop products that are useful to the neuroscience community. They helped design the Malli adapter to allow the use of traditional electrode holders with Pine Research instruments, such as the WaveNeuro potentiostat. Pine Research and the Venton lab have also worked together to design headstages with different gains, which are useful for their carbon nanomaterial electrode work.
At the upcoming Monitoring Molecules in Neuroscience (MMiN) meeting in Oxford UK, Dr. Venton will be highlighting their recent work in understanding the mechanism and function of rapid adenosine release. If you are attending the conference, perhaps you can meet Dr. Venton in person and learn more about the challenges in measuring adenosine in-vivo.
Tim Paschkewitz and Greg McCarty from Pine Research Instrumentation will also be attending MMiN this year. They will have several new products on display for the FSCV community, such as the In-Vitro/Microelectrode FSCV Flow Cell and the brand new WaveNeuro Four, a four channel FSCV instrument. Make sure to stop by the Pine Research booth – they would love to learn about your neurochemistry research, challenges, and instrumentation needs.
Cannot wait to see all the great new products for in-vivo and in-vitro electrochemical neuroscience?  Start by checking out the Pine Research FSCV products collection.
---
References
M. Shin, J.M. Copeland, B.J. Venton, Drosophila as a Model System for Neurotransmitter Measurements, ACS Chem. Neurosci.  2018, ASAP article.  http://dx.doi.org/10.1021/acschemneuro.7b00456
S.T. Lee, B.J. Venton, Regional Variations of Spontaneous, Transient Adenosine Release in Brain Slices, ACS Chem. Neurosci.  2017, ASAP Article.  http://dx.doi.org/10.1021/acschemneuro.7b00280
C. Yang, Y. Wang, C.B. Jacobs, I.N. Ivanov, B.J. Venton, O 2 Plasma Etching and Antistatic Gun Surface Modifications for CNT Yarn Microelectrode Improve Sensitivity and Antifouling Properties, Anal. Chem. 2017, 89, 5605–5611. http://dx.doi.org/10.1021/acs.analchem.7b00785
P. Pyakurel, M. Shin, B.J. Venton, Nicotinic acetylcholine receptor (nAChR) mediated dopamine release in larval Drosophila melanogaster, Neurochem. Int. 2018, 114, 33–41. http://dx.doi.org/10.1016/j.neuint.2017.12.012
P. Pyakurel, E. Privman Champaloux, B.J. Venton, Fast-Scan Cyclic Voltammetry (FSCV) Detection of Endogenous Octopamine in Drosophila melanogaster Ventral Nerve Cord, ACS Chem. Neurosci.  2016, 7, 1112–1119. http://dx.doi.org/10.1021/acschemneuro.6b00070
C. Yang, B.J. Venton, Carbon Nanomaterials for Neuroanalytical Chemistry, in: S. Szunerits, R. Boukherroub, A. Downard, J.-J. Zhu (Eds.), Nanocarbons for Electroanalysis, 1st ed., John Wiley & Sons, 2017: pp. 55–74.
M.D. Nguyen, Y. Wang, M. Ganesana, B.J. Venton, Transient Adenosine Release Is Modulated by NMDA and GABA B Receptors, ACS Chem. Neurosci.  2017, 8, 376–385. http://dx.doi.org/10.1021/acschemneuro.6b00318
M. Ganesana, S.T. Lee, Y. Wang, B.J. Venton, Analytical Techniques in Neuroscience: Recent Advances in Imaging, Separation, and Electrochemical Methods, Anal. Chem. 2017, 89, 314–341. http://dx.doi.org/10.1021/acs.analchem.6b04278