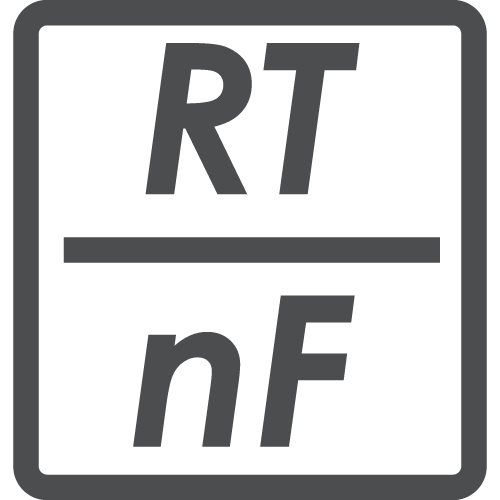 Fundamental Equations
Back to Fundamental Equations
Back to Theory
Back to Knowledgebase Home
Nernst Equation
Last Updated: 5/7/19 by Tim Paschkewitz
1Nernst Equation
There are many resources that describe the detailed background, derivation, and applications of this equation.
Bard, A. J.;&nbspFaulkner, L. A.&nbsp&nbspElectrochemical Methods: Fundamentals and Applications, 2nd ed. Wiley-Interscience: New York, 2000.
Kissinger, P.;&nbspHeineman, W. R.&nbsp&nbspLaboratory Techniques in Electroanalytical Chemistry, 2nd ed. Marcel Dekker, Inc: New York, 1996.
Wang, J.&nbsp&nbspAnalytical Electrochemistry, 3rd ed. John Wiley & Sons, Inc.: Hoboken, NJ, 2006.
Langhus, D. L.&nbsp&nbspFundamentals of Electroanalytical Chemistry.&nbsp&nbspJ. Chem. Educ., 2002, 79(10), 1207.
  Here, we present just a snippet to get you started.
To account for the possibility of non-unity activities in an electrochemical reaction, the Nernst equation (see below) can be used to express the equilibrium electrode potential
in terms of the actual activities,
where
is the standard potential for the electrochemical couple,
Wikipedia - Standard Electrode Potential
is the Universal Gas Constant (8.314 J/mol K),
Wikipedia - Universal Gas Constant
is absolute temperature,
Wikipedia - Thermodynamic Temperature
is the number of electrons, and
is Faraday's Constant (96,485 C/mol).
Wikipedia - Faraday Constant
  Usually, the activities of molecules or ions dissolved in solution are assumed to be the same as their molar concentrations, so the Nernst Equation is often written as
where
is the formal potential for the electrochemical couple,
and
are the concentrations of the dissolved molecules or ions in the oxidized and reduced forms, respectively, at the surface of the electrode.  Note that any liquid or solid phase materials at the electrode surface (such as the solvent or the electrode itself) have unity activity and thus do not appear in the Nernst equation.
2References