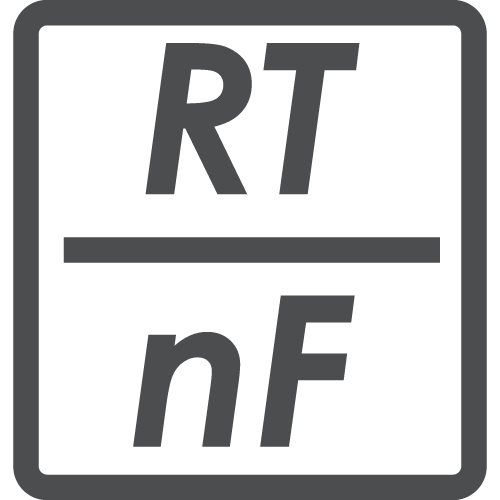 Fundamental Equations
Back to Fundamental Equations
Back to Theory
Back to Knowledgebase Home
Randles–Sevcik Equation
Last Updated: 5/7/19 by Tim Paschkewitz
1Randles-Sevcik Equation
There are many resources that describe the detailed background, derivation, and applications of this equation.
Bard, A. J.;&nbspFaulkner, L. A.&nbsp&nbspElectrochemical Methods: Fundamentals and Applications, 2nd ed. Wiley-Interscience: New York, 2000.
Kissinger, P.;&nbspHeineman, W. R.&nbsp&nbspLaboratory Techniques in Electroanalytical Chemistry, 2nd ed. Marcel Dekker, Inc: New York, 1996.
Wang, J.&nbsp&nbspAnalytical Electrochemistry, 3rd ed. John Wiley & Sons, Inc.: Hoboken, NJ, 2006.
Langhus, D. L.&nbsp&nbspFundamentals of Electroanalytical Chemistry.&nbsp&nbspJ. Chem. Educ., 2002, 79(10), 1207.
Elgrishi, N.;&nbspRountree, K. J.;&nbspMcCarthy, B. D.;&nbspRountree, E. S.;&nbspEisenhart, T. T.;&nbspDempsey, J. L. &nbsp&nbspA Practical Beginner's Guide to Cyclic Voltammetry.&nbsp&nbspJ. Chem. Educ., 2018, 95(2), 197-206.
  Here, we present just a snippet to get you started.
In a potential sweep experiment (e.g., LSV
Linear Sweep Voltammetry (LSV)
or CV
Cyclic Voltammetry (CV)
), the peak current
follows the Randles-Sevcik equation,
At 25°C, for an electrode with surface area
, for a solution whose electrochemical redox pair of concentration
has a diffusion coefficient
, was swept in an LSV or CV experiment at sweep rate
,
is
2References