This is a 16-bit M-Series interface board option for the CBP bipotentiostat system. This board will fit into any full size PCI slot in a personal computer (desktop or tower). The PCI-6251 board is manufactured by National Instruments (Austin TX). The board offers multiple 16-bit analog input/output channels, precision timing, and several digital input/output lines. A special 68 conductor cable and a 68-to-50 pin adapter are required to connect this board to a CBP bipotentiostat.
You can purchase the board, cable, and adapter from National Instruments or Pine Research Instrumentation. Click on the specific part numbers at the bottom of the table below for additional purchasing details.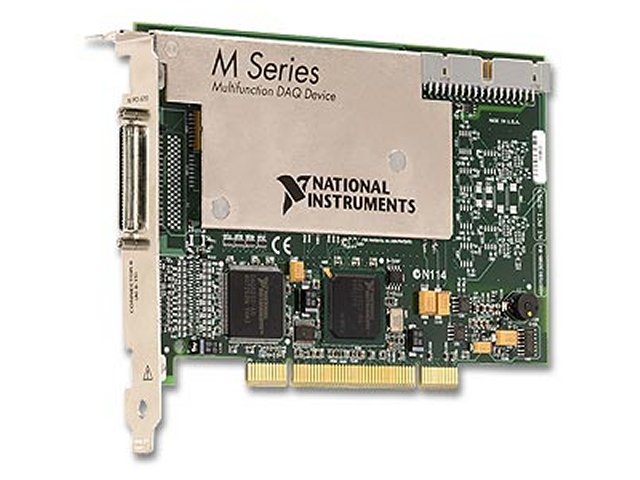 Photo of the PCI-6251 Interface Board
Description
PCI-6251 Interface Board
68-Conductor Shielded Cable
68-to-50 Pin Adapter
All three of the items listed in the table above can be purchased as a single kit from Pine Research Instrumentation (see kit number AKCBP6251). In general, Pine recommends that customers purchase the interface board directly from National Instruments (Austin TX) when possible. Most academic and research organizations already have an account with National Instruments, and it is generally less expensive to purchase these items directly. Note also that existing CBP bipotentiostat users who already own an older interface board usually already have the "68-to-50 Pin Adapter" and should not need to order this item again.