This is a 16-bit M-Series interface board option for the CBP bipotentiostat system. This board will fit into any full size PCI slot in a personal computer (desktop or tower). The PCI-6259 board is manufactured by National Instruments (Austin TX). The board offers multiple 16-bit analog input/output channels, precision timing, and several digital input/output lines.
A special 68 conductor cable and a 68-to-50 pin adapter are required to connect this board to a CBP bipotentiostat.
Note that this board has two 68 pin connectors marked "Connector 0" and "Connector 1". When connecting this board to a CBP bipotentiostat, you should use the connector marked "Connector 0".
You can purchase the board, cable, and adapter from National Instruments or Pine Research Instrumentation. Click on the specific part numbers at the bottom of the table below for additional purchasing details.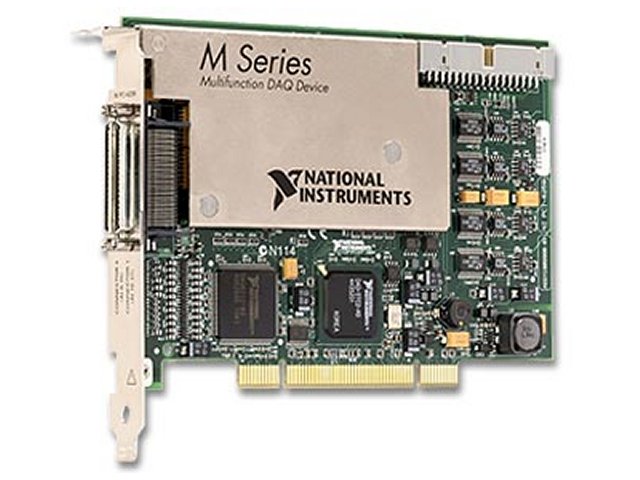 Photo of the PCI-6259 Interface Board
Description
PCI-6259 Interface Board
68-Conductor Shielded Cable
68-to-50 Pin Adapter
Pine Research Part Number
EANPCI6259
EWCP6102
EAF67001
---
Related Links
:
CBP Bipotentiostat
,
Interface Boards
,
Device Drivers