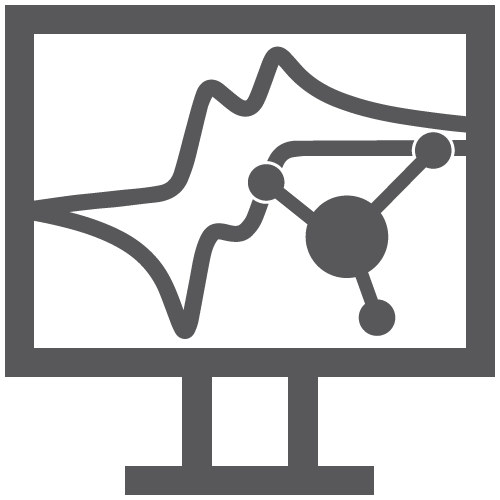 Electrochemical Simulation
Back to Electrochemical Simulation
Back to Applications
Back to Knowledgebase Home
AfterMath Electrochemical Studio Simulation – Verification
Last Updated: 3/30/23 by Tim Paschkewitz
1Simulation Model and Engine Verification
2AfterMath Electrochemical Studio Simulation Basics
Before you delve into AfterMath Electrochemical Studio Simulation it will be helpful to know a few things about our implementation.  Perhaps it's true in all niche areas of science, but electrochemistry seems especially riddled with unclear semantics, labels, interpretations, and positions:
Oxidation is to the right (unless it's to the left).
Cathodic current is positive (unless it's negative).
Potential goes on the x-axis (unless it goes on the y-axis), and it increases positively to the right (unless it increases negatively to the right, if it even belongs on the horizontal axis).
Homogenous rate constant in the forward direction, for a quasi-reversible reaction, is kf (unless it's kb, unless it's k1).
Butler-Volmer kinetics should always be used (unless you should always use Marcus-Hush).
Elementary charge transfer reactions transfer only one electron at a time (unless they can transfer n electrons at a time).
When it comes to α, it is only for the forward reaction and there's no corollary (unless there's a 1 - α corollary), and it's never labeled as anything but α (unless it's labeled αC or αA).
Polarographic plotting convention is the only correct choice (unless you plot in IUPAC convention).
Here at Pine Research, we are like the rest of the community.  We pick a position and firmly plant our feet into it.  We know we won't get it right for all of you, but our goal is to be as clear as possible about what we have done.  We do not want to force conventions or labels onto you, but we also have to pick something.  We consider it our job to make our choices abundantly clear to you as the user.  That said, here are some choices we made in Simulation, which are important to know.  We wrote a separate article about this so that when you can be made adequately aware of our choices.
3Recreations of Electrochemical Methods Figures
We simulated the following examples in AfterMath Electrochemical Studio. The plots were customized (colors, weights, fonts, etc.) in AfterMath to resemble the examples in the text. In all cases, the output from our simulations exactly matches the cases provided in the text.
As with all things electrochemistry, labels for parameters are not always the same across the landscape.  In AfterMath Electrochemical Studio, we have landed on the following labels found in Simulation:
3.1Figure 13.3.1 (a - d) - ErCi Mechanism
With the following simulation parameters:
3.2Figure 13.3.1 (e) - ErCi Mechanism (Dimensionless Current)
Cyclic Voltammograms were generated with the same reaction as above; however as a function of λ = 500, 10, 0.1, and 0.01.  The benefit of visualizing data like these is to understand a range of kinetic behaviors and their effects on a single comparison plot.
3.3Figure 13.3.4 - ErCiEr Mechanism
With the following simulation parameters:
3.4Figure 13.3.9 - ErCi' Mechanism
3.5Figure 13.3.10 - ErCi' Mechanism (Dimensionless Current)
3.6Figure 13.3.13 - CrEr Mechanism
To recreate this plot, Pre-Equilibrium concentrations must be used to ensure that there is adequate concentration of C present to show the immediate oxidation wave. By default, bulk concentrations (C*) are used in AfterMath Electrochemical Studio. Making assumptions about equilibration can lead to erroneous results and should be avoided. Alas, there are times when the model may not adequately compute fractional concentrations near the electrode interface in coupled mechanisms. Since all reactions happen at the same time, everywhere, some users may wish to assume Nernstian equilibrium previails at the onset of the simulation, thereby making select species (initially absent) having a very small but non-zero fractional concentration at t = 0. Users can select "Use Equilibrium Concentrations [C]" on the Settings tab of Simulation, to enable equilibrium concentration calculated values for initial concentrations (instead of the bulk provided on the Mechanism tab). To exactly re-create the figure, we have used Equilibrium concentrations for the data in the plot above.  The following simulation parameters were used:
3.7Figure 13.3.16 - ErEr Mechanism
3.8Figure 13.3.20 - ErEq Mechanism
3.9Figure 13.3.21 - ErEq Mechanism
3.10Figure 13.3.22 - EqEr Mechanism
3.11Figure 13.3.25 - ErCiEr Mechanism
*Refer to table below for values of k for a given λ.