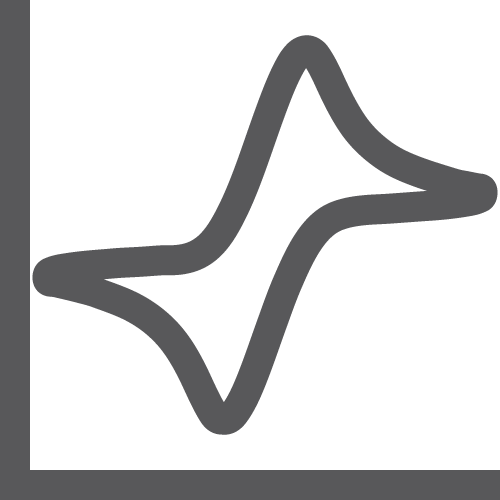 Voltammetric Methods
Back to Methods and Techniques
Back to Software
Back to Knowledgebase Home
Cyclic Voltammetry (CV)
Last Updated: 10/26/20 by Tim Paschkewitz
1Technique Overview
2Fundamental Equations
Consider a reaction,
As a general approximation,
3Experimental Setup in AfterMath
Doing so creates an entry within the archive, called CV Parameters. In the right pane of the AfterMath application, several tabs will be shown (see Figure 5).
As with many Aftermath methods, the experiment sequence is
Like many methods, the Induction and Relaxation Periods are on the Advanced Tab.  The parameters for a CV experiment are fairly simple compared to other methods in AfterMath.
In general, enter minimum required parameters on the Basic tab and press "Perform" to run an experiment.  AfterMath will perform a quick audit of the parameters you entered to ensure their validity and appropriateness for the chosen instrument, followed by the initiation of the experiment.  In some cases, users may desire to adjust additional settings such as filters, post- experiment conditions, and post-experiment processing before clicking the "Perform" button.  Continue reading for detailed information about the fields on each unique tab.
3.1Basic Tab
After the induction period, the potential applied to the working electrode is swept to the next specified value (based on segments) for the duration of the experiment, which is called the sweep period.  The potentiostatic circuit of the instrument maintains control over increasing potential while simultaneously measuring the current at the working electrode relative to the reference electrode.  During the sweep segments, potential and current at the working electrode are recorded at regular intervals as specified on the Advanced Tab.
A plot of the typical experiment sequence, containing labels of the fields on the Basic tab, helps to illustrate the sequence of events in a CV experiment (see Table 1 and Figure 7).
3.2Advanced Tab
The CV Advanced tab contains groups for Induction Period, Relaxation Period, iR Compensation, and Sampling (see Figure 8).
Threshold defines the frequency of sampling.  There are two options from the dropdown which are "Default" and "None."  Additionally, a specific current interval can be added by typing a numeric value into the dropdown box and selecting the appropriate units.  Briefly, the options can be described as follows:
Default.  This setting will use the default settings, which are 5 mV for potentiostatic experiments and 1 µA for galvanostatic experiments.
None.  This setting will enable the collection of the maximum number of data points possible.  The value is not easily known, as is a combination of the sweep rate and sweep limits.  Choose this option to collect the maximum number of data points that the hardware can acquire.
Manual entry.  In this case, type an integer value into the dropdown menu and select the appropriate units in the next dropdown menu.  For example, a user may only wish to collect a data point every 20 mV, in which case these are entered into the fields.
3.3Ranges, Filters, and Post Experiment Conditions Tab
4Sample Experiment
From above, the simplified Randles-Ševčík equation is
where the slope, from the inset plot in Figure 10, is equal to
5Example Applications
6References