Cells and Glassware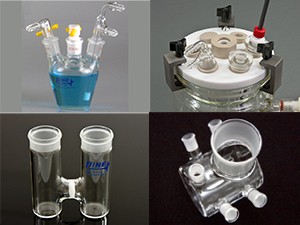 Pine Research offers a variety of electrochemical cell designs including custom glass and quartz (a Pine Research specialty).  From low volume (1 mL) to large volume (1 L) and anything in between, Pine Research cells will serve your research needs. Pine Research glassware finds application in many areas including: electroanalytical chemistry, corrosion science, photoelectrochemistry, spectroelectrochemistry, and more. Quantity is also not an issue for us.  We can provide 1 piece of glassware as easily as we can provide 1,000 of the same piece. If you do not see the glass or quartz cell you need, do not hesitate to contact us. Why struggle to "make something work," when Pine can make exactly what you need?
Visit our gallery at the bottom of this page to see the possibilities. Or order your glassware today.
---
CUSTOM GLASS AND QUARTZ PROCESS
---
It's as easy as 1. 2. 3.
Submit a sketch with nominal dimensions to Pine Research.  Pine will follow up to learn more about expected applications, use conditions, and customer expectations. Pine engineers begin the design, drawing, and rendering process.
Pine Research will send you an initial drawing and digital rendering for your review. After iteratively fine tuning the design, your signature completes the design process.
Sales will send a quotation with  lead time. Construction only begins after order is received.
Custom Glass and Quartz Gallery