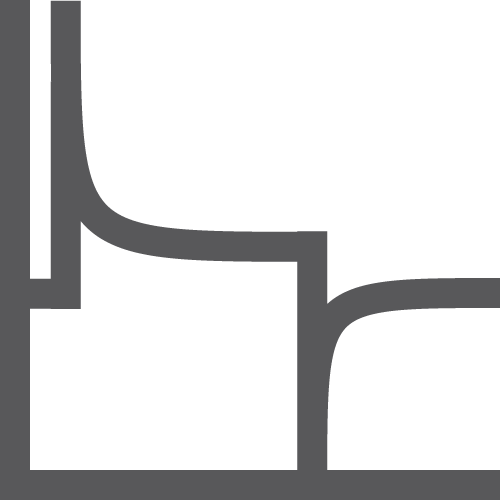 Potentiostatic Methods
Back to Methods and Techniques
Back to Software
Back to Knowledgebase Home
Double Step Chronoamperometry (DPSCA)
Last Updated: 3/31/20 by Tim Paschkewitz
1Technique Overview
2Fundamental Equations
Consider the general reaction
3Experimental Setup in AfterMath
Doing so creates an entry within the archive, called DPSCA Parameters. In the right pane of the AfterMath application, several tabs will be shown (see Figure 2).
As with most Aftermath methods, the experiment sequence is
Like many experiments, the Induction and Relaxation Periods are on the Advanced Tab.  The parameters for a DPSCA experiment are fairly simple compared to other methods in AfterMath.
In general, enter minimum required parameters on the Basic tab and press "Perform" to run an experiment.  AfterMath will perform a quick audit of the parameters you entered to ensure their validity and appropriateness for the chosen instrument, followed by the initiation of the experiment.  In some cases, users may desire to adjust additional settings such as filters, post-experiment conditions, and post-experiment processing before clicking the "Perform" button.  Continue reading for detailed information about the fields on each unique tab.
3.1Basic Tab
After the induction period, the potential applied to the working electrode is stepped to the specified value for the duration of the experiment, which is called the Forward step period.  The potentiostatic circuit of the instrument maintains constant applied potential relative to the reference electrode while simultaneously measuring the current at the working electrode.  During the electrolysis period, potential and current at the working electrode are recorded at regular intervals as specified on the Basic tab for the first (forward) potential step and then the second (reverse) potential step in the sequence.  There is no pause between the two steps and potential is nearly instantaneously stepped from the first to second electrolysis potential.
Sampling control defines the number of intervals (number of data points) collected during the electrolysis period.  With Electrolysis period duration, a sampling rate can be defined as,
Users should enter a number of intervals that their analysis requires.  Commonly, DPSCA experiments are sampled at a lower rate (1 sample/s).  Not all sampling rates are allowed due to differences in hardware (WaveNow series vs. WaveDriver series, for example).
A plot of the typical experiment sequence, containing labels of the fields on the Basic tab, helps to illustrate the sequence of events in a DPSCA experiment (see Table 1 and Figure 4).
3.2Advanced Tab
The DPSCA Advanced tab contains two groups for iR Compensation and for Experiment End Trigger (see Figure 5).
3.3Ranges, Filters, and Post Experiment Conditions Tab
3.4Post Experiment Processing Tab
At the completion of this experiment, there are additional post-processed plots that can optionally be generated.  Additional plots will increase the size of the archive; however, if they are desired, it can save time to generate them automatically than manually later (see Figure 6).
On the Post-Expeirment Processing Tab for DPSCA, users can enable three additional plots:  Cottrell Plot (see Figure 7), Anson Plot (see Figure 8), or DPSCA Working Curves (see Figure 9).  Tick the checkbox next to the plot to add them to the archive following the completion of the experiment.
4Sample Experiment
2 mm OD Pt working electrode
forward step potential of 0.75 V vs. Ag/AgCl
reverse step potential of 0 V vs. Ag/AgCl
5Example Applications
6References